Key Takeaways
Pinto beans are a delicious and healthy addition to a dog's diet ✔️
They're packed with protein, vitamins, minerals, and fiber, making them a nutritious meal for any pup 💪
Pinto beans provide essential nutrients for building muscle, maintaining a shiny coat, and keeping your dog's digestive system in good working order among other benefits 💪
Raw beans are toxic to dogs and humans alike, so always serve them cooked! ❌
Pinto beans are a South American delicacy which can fill your tummies and make it happy. And not only you, but your furry companion too. However, there are some caveats, too! Can dogs eat pinto beans? There are 9 reasons why you should consider supplementing your dog's diet with beans. Read along to get all the details.
In this article you will read about
Pinto Beans Are Safe for Dogs to Eat and Are Packed With Protein
A cup of raw pinto beans contains around 41 grams of protein. This equates to 3.25 cups of cooked beans, so there are 12–13 grams of protein in a cup of boiled pinto beans. They're a great choice for dogs who need extra protein in their diet. Protein is essential for building and maintaining muscle mass, so adding pinto beans to your dog's diet can help keep them healthy and fit.

This Type of Beans Is a Good Source of Fiber
One cup of cooked pinto beans also contains around 9 grams of fiber, which is important for keeping your dog's digestive system healthy. Fiber can help regulate bowel movements and keep digestion running smoothly.
Dogs Can Eat Pinto Beans Because They Are Low in Fat
Can dogs eat pinto beans? Yes! Pinto beans are packed with protein and fiber, but they are relatively low in fat, making them a healthy option for dogs who need to slim down. Just remember never to offer Doggo beans from a tin or random processed legume snacks. They are too spicy and too salty!
Making Pinto Beans for Dogs Can Improve Their Energy Levels
Pinto beans are a good source of carbohydrates, which the body uses for energy. Adding pinto beans to your dog's diet can help give them the energy they need to run around and play. Stay away from any additives such as garlic, chili or onions.

Feeding Your Dog Pinto Beans Will Keep Their Coat Shiny
The protein and minerals in pinto beans can help keep your dog's coat healthy and shiny. Adding pinto beans or another healthy vegetable to your dog's diet will help them look their best. Who doesn't want that for their pup?
Pinto Beans Help Improve a Dog's Brain Function and Heart Health
Pinto beans are a good source of vitamins B1 and B6, which are important for keeping your dog's brain and heart healthy, respectively. Vitamin B6 is also essential for red blood cell synthesis and nervous system function. Still wondering: can dogs eat pinto beans?
They're Good for Dogs With Diabetes
Beans can help regulate blood sugar levels. This makes pinto beans a good choice for dogs who are at risk for developing diabetes. Adding pinto beans to your dog's diet can help keep their blood sugar levels under control and prevent them from developing diabetes.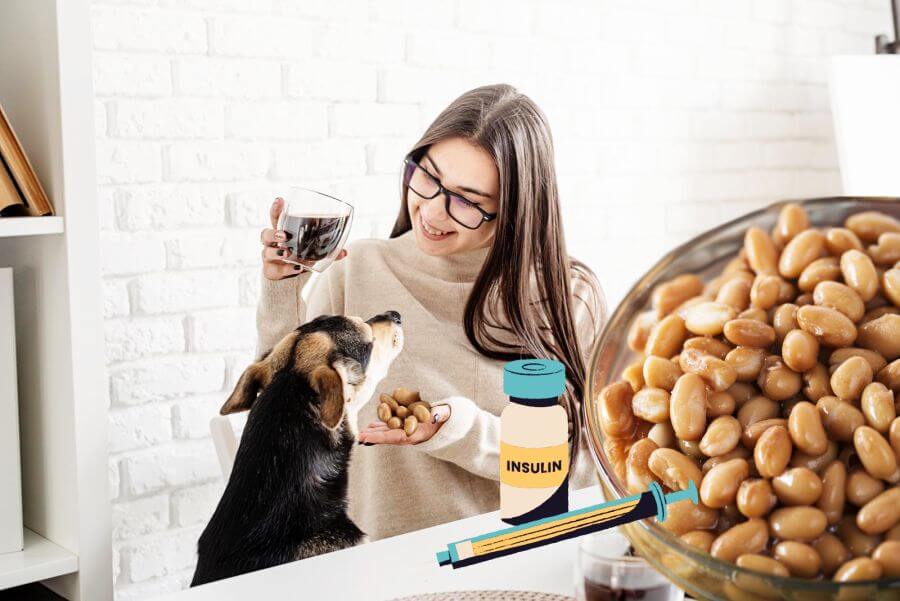 Beans for Your Dogs Will Help Improve Digestion
The high amount of fiber in pinto beans can help keep your dog's digestion running smoothly. Fiber is essential for optimal digestion, and adding pinto beans to your dog's diet can help improve their digestive health. They've also been proven to benefit the gut microbiome in mice, which may also be true for dogs.
Baked Beans Are a Low-Cost Way to Supplement Your Dog's Diet
Pinto beans are a relatively cheap food, and they're easy to find in most supermarkets. This makes them a cost-effective way to supplement your dog's diet and give them the nutrients they need to stay healthy. You can also give your dog other varieties of beans.
Can Dogs Eat Raw Beans?
Never feed Doggo uncooked beans, as they contain the toxin phytohemagglutinin, which causes red blood cells to clump. You wouldn't eat raw beans yourself either. Canned or refried beans may also lead to an upset stomach and in consequence a long visit at the vet's office. What you need to do to avoid any negative side effects of legumes is soak them overnight and then just boil them for an energizing addition to dog food!
Can Dogs Eat Pinto Beans? Time to Conclude
The next time you're in the grocery store, don't forget to pick up a bag of pinto beans for yourself and your furry friend. Not only are they good for Fido's health, but they also taste delicious. So, can dogs eat pinto beans? Now you know!
Frequently Asked Questions
What Beans Are Healthiest for Dogs?
Some of the healthiest beans for dogs are pinto, black, and kidney beans. These types of beans are high in protein and fiber, and they can help keep your dog's digestive system running smoothly.
Why Can't Dogs Eat Canned Beans?
Usually, canned beans contain added salt and other preservatives, which can be harmful to dogs. If you do want to offer your dog canned beans, make sure to check the ingredients label first.
Can I Feed My Dog Rice and Beans?
Yes, you can feed your dog rice and beans. However, since both rice and legumes are high in carbohydrates, it's best to limit the amount you feed your dog. Be sure to only give your dog cooked and plain beans and rice, and always consult with a vet before making any major changes to their diet.
---
Similar Posts: