We all know that choosing a dog's name is a very important decision. After all, you will be calling your furry friend by this name for the rest of his or her life! So why not pick a funny name that will make you and everyone else laugh? Check out this hilarious list of fun dog names for people with a sense of humor!
| Fun-Pun Names | Fun Place Names | Fun Animal Names |
| --- | --- | --- |
| Anita Treat | Dinasaur (Colorado) | Daddy Long-Legs |
| Chase Tail | Winnebago (Minnesota) | Boops Boops |
| Harry Puffington | Popejoy (Iowa) | Lumpsucker |
In this article you will read about
Fun Dog Names for Small Dogs

Small dogs are great little companions and perfect for apartment living! They need special care, as they can be more delicate than larger breeds. One of the best ways to keep your dog happy is to give him a fun name that suits his personality. Here are some suggestions for fun dog names for small dogs:
Widget – a perfect name for a small and active dog who loves to play.
Scrappy – a good choice for a feisty little dog who doesn't know his own size.
Gizmo – an ideal name for a small and curious dog who is always exploring.
Pixie – a great name for a small dog who always seems to be getting into mischief.
Cupcake – a fun name that suits a tiny, cute little dog with an appetite for treats!
Let's stop right here. If your dog likes treats, consider naming him Biscuit, Snickers, Peanut, M&M, Twix, or Oreo!
Editor's Note

One of my dog's name is Ruby. She's a pomeranian, and when we saw her pic as a puppy, my wife awed "Awww, she's as small as the ruby in my ring!" After that, there was no other name we wanted to choose for her ❤️
Funny Names for Big Dogs
Do you have a big dog? If so, what do you call them? Here are some fun dog names for big dogs that might make you chuckle:
Godzilla – a great name for a furry friend with impressive stature. This one is sure to get a few laughs from your friends.
King Kong – a classic name that is sure to be a hit with all the big dog lovers out there.
The Beast – a great name for a big, scary dog that will protect your home from all kinds of danger.
Terminator – another great choice if you want to give your big dog an intimidating name. He'll be sure to do a good job of protecting you no matter what!
Need more ideas? Consider Jabba the Hutt, Hulk, Bigfoot, Doggy, or Buddy! Or you can click here to read more about "Big dog names!"
Funny Dog Names Inspired by Pop Culture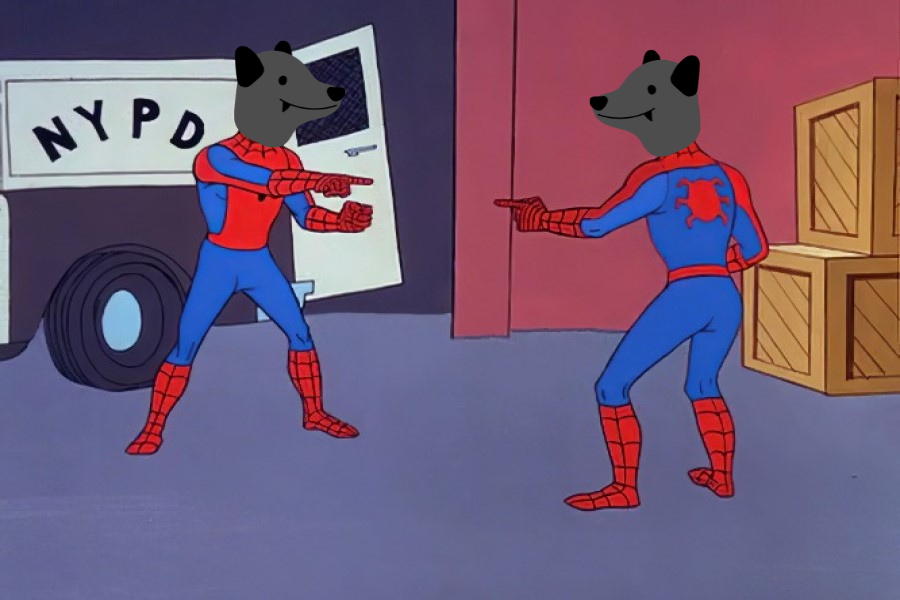 Here are a few fun dog names to choose from, inspired by culture and cartoons:
Scooby-Doo – this is a classic name that has been in use for decades, and it will be sure to make your dog stand out from other pups.
Spuds Mackenzie – many people may remember this famous dog from his Bud Light commercials, but some pups can relate to the pup's party-loving habits.
Goofy – what list of funny dog names would be complete without this classic Disney character? He is sure to bring a smile to everyone's face, just like your furry friend does.
Gidget – This adorable character from the movie "The Secret Life of Pets" is sure to make everyone smile, just like your furry friend does on a daily basis.
Pluto – this classic Disney character is sure to be a hit with anyone who watches you walk down the street with your dog by your side.
Are you a fan of anime? We have a treat for you! Here are some of the best anime dog names we could think of!
Funny Human Names for Dogs
There are many different types of names you could choose for your dog. You can pick something short or long, silly or serious, quirky or classic. Here are just a few of the many names out there that will make you and your dog laugh:
Ewok – this is a great name if you have a small dog that looks like an Ewok from Star Wars. It's also a cute fit for any dog who loves to cuddle.
Pugsley – if you love the Addams Family, this is a great name for your pug or other small breed dog. It's silly and fun, but it still has some spunk to it too.
Harvey Dent – another great name for dogs who love ruffling feathers and getting into mischief, this one was inspired by the Batman movie series.
Bilbo Baggins – sometimes dogs are just born grumpy. And if they are small, love food and adventures, then Bilbo is an amazing name for them!
Funny Dog Names for a Royal Pooch

There are many people out there who love dogs but don't want to name their pooch something boring. If you're one of those people, then this list of fun dog names is for you! Here are some of the funniest names for dogs that we could find:
Sir Barks-a-Lot – Does your dog that love to bark? Well isn't he a noble Sir Barksalot?
Lady Snifferbottom – Back in the old days, ladies had sniff tins. Now, well, they sniff butts.
Duke Droolerson – Drooling is common with most dogs, but some make it their lifetime goal to drool the most.
Princess Pees-a-Lot – Why not turn a troublesome habit into a cute name, huh?
Lord of the Farts – Do your pooch's farts exceed your own? Then, they deserve a title for that!
Punny Dog Names for Your Pup
Some of the best punny dog names are those that incorporate common words and phrases in a clever way. For example, Kibble is a great name for a small dog, or Paws for a big one. Other good choices include Barky and Waggy.
If you want to go even sillier, try out some food-based names like Hot Dog, Burrito, or Pizza Pup. Or how about some pop culture references like Frodog (for a Lord of the Rings fan)? Here are some other punny names:
Bark Ruffalo;
Donut Howl;
Furdinand Magellan;
Madogna;
Pawtato;
Woof Wellington;
Scrooge McDog;
Smella de Vil;
Mary Poopins.
Funny Girl Dog Names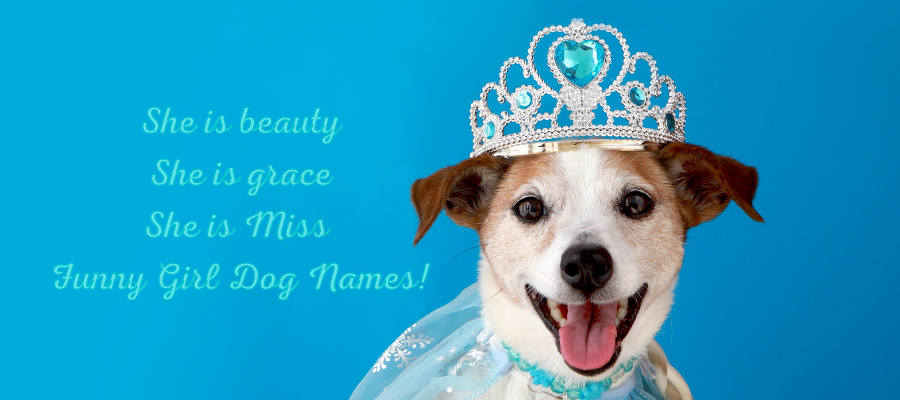 Funny names for female dogs are aplenty – from sassy to silly, there's bound to be one that's perfect for your puppy. Check out our list of some of the most popular funny names for dogs below, and see if any of them make you giggle:
Barbie Q;
Bella Nutella;
Bubble Butt;
Chewbacca Mom;
Couch Potato;
Goose;
Helga;
Hyena;
Jelly Belly;
Sassy Señorita.
Fun Dog Names FAQs

What Is a Creative Dog Name?
If you're looking for some creative name ideas, consider changing an adjective into a name. For example: Smellston, Cutelita, Fluffles, or Karen (this counts as both a name and an adjective ;))
What Are Silly Names for Pets?
A silly dog name, you want? Our favorite include: Pooper, Lick-Lick, and Fartsy.
What Is the Funniest Dog Name?
Well, that's very subjective. We personally find naming a dog some other animal HILARIOUS. Of course, we're not talking about Bear or Wolf. We meant something closer to: Chicken, Pig, Pigeon, or Cat.
Which one of these fun dog names is your favorite? Did you find inspiration in our article? Let us know in the comments!
---
Similar Posts: