| Cat Color | Boy Cat Name |
| --- | --- |
| Black cat | Nox |
| White cat | Olaf |
| Orange cat | Cumin |
| Gray cat | Cloud |
| Brown cat | Moose |
| Tabby cat | Patchy |
| Black and white cat | Tuxedo |
If you're adopting a kitten, it's hard to say what he's going to be like once he grows up. But whether he's a cuddler or a troublemaker, we're sure you'll find a boy cat name on this list that fits him perfectly. You can go for appearance descriptors, like "Smokey" or "Tuxedo," or something funny that works for any cat. Without further ado, let's see some ideas!
In this article you will read about
Popular Boy Cat Names – Use Them or Avoid Them
If you're looking for boy cat names, popular choices can be a great place to start. After all, they're popular for a reason – they sound catchy and fit the quirks of many cats in the neighborhood. Your kitten won't stand out as much with one of these names, but it doesn't matter if he's an indoor cat.
Charlie – this popular name is quite simple yet elegant;
Frank – a good-natured name that fits regal cats;
Leo – perfect for a bold, courageous cat;
Loki – from Norse mythology, this name stands for mischief;
Milo – a sweet and gentle name for your little furball;
Oliver – inspired by the famous Dickens' character, an ideal name for an adventurous cat;
Simba – perfect for a proud, brave cat;
Tiger – this name will always remind you of your bold and playful pet;
Simon – a very fitting name for a loyal and caring cat;
Tom – the famous Tom from Tom & Jerry would be proud of your choice.
These are all classic male cat names, or ones that rose in popularity recently. Some come from Rover's Top Cat Names 2021. If you want to give your boy kitten a name that no other cat in the neighborhood has, then go for something else. Scroll down for some out-of-the-box ideas!
Unique Male Cat Names – Go for Something Unexpected
Tired of the same old boy cat names? We've got you covered with some unique ideas that are sure to make your kitten stand out.
Aladdin – inspired by the famous Disney character;
Cosmo – a nice name for a curious cat;
Beowulf – an adventurous name for a brave cat;
Dracula – perfect for a mysterious black cat;
Gandalf – a name from the Lord of the Rings, for an old-soul cat;
Hercules – ideal for a strong and powerful cat;
Indiana – inspired by the famous movie series;
Moses – an interesting and regal name for a white cat;
Jupiter – a strong and majestic name for your giant;
Neo – inspired by the Matrix trilogy, for a smart cat;
Phoenix – perfect for a brave and resilient feline;
Tarzan – an adventurous name that celebrates your cat's wild side;
Sherlock – an ideal name for a curious and inquisitive cat.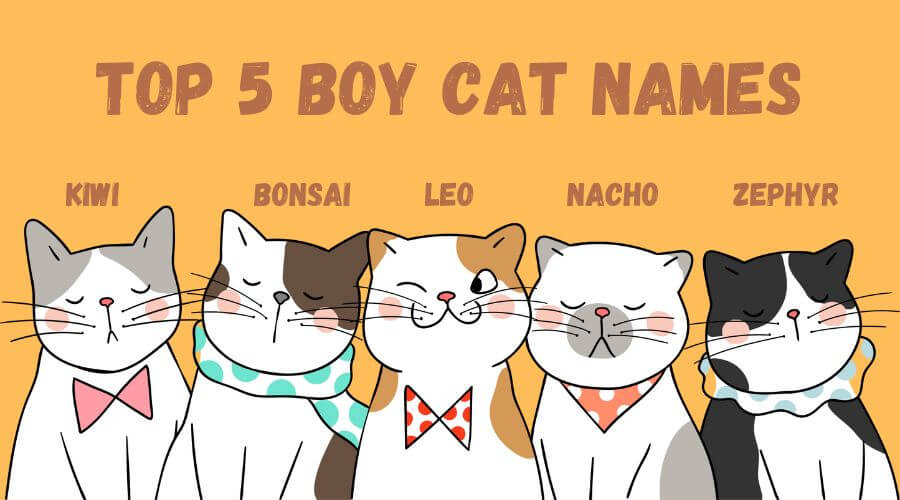 These boy cat names are perfect for the adventurer, the thinker, or the boy kitten who's just a little bit different. They may belong to known characters, but have you ever met a cat named like that? With one of these names, your boy kitten is sure to be one-of-a-kind!
Cute Male Cat Names – For the Sweetest Kitten Around
Looking for male kitten names that are as sweet as your kitty? He may not be as tiny when he grows up, but we're sure he's still going to be a cutie pie. Check out these ideas!
Bear – perfect for a cuddly cat;
Biscuit – this name stands for sweetness and coziness;
Fuzzy – ideal for a playful, furry cat;
Gizmo – an adorable name for the cutest pet around;
Button – a cute name for a small, round kitten;
Donut – an ideal name for a round and fat cat;
Lovebug – perfect for a loving and affectionate cat;
Muffin – an adorable name for a fluffball;
Noodle – ideal for a long and slender cat;
Snuggles – perfect for a lap cat;
Teddy – an ideal name for a cuddly furball.
These names are perfect for boy kittens who love to cuddle and be held. They're also great for cats who have a lot of personality – after all, "Gizmo" is quite the quirky name! No matter what your boy kitten's personality is, we're sure you'll find a name on this list that you love.
Editor's Note

When I adopted my cat, I wanted to give him a name that was special and meaningful. After doing some research, I came up with a few boy cat name ideas that I thought fit him perfectly. I chose the name Oliver, which means peaceful, and it seemed to fit his personality. 
I also considered the names Max, which means the greatest, and Felix, which means lucky. Both of these names reminded me of how lucky I was to have him in my life. In the end, I picked Oliver because I thought it was a perfect fit for my sweet cat. He's been living up to his name ever since!
Name Ideas Based on Your Male Kitten's Color
One way to find boy cat names is to base them on your kitten's fur color. After all, he's going to have that same beautiful coat for his whole life! Here are some ideas – your own associations with the colors may differ.
Names for black cats: Jet, Onyx, Panther, Shadow, Smoke;
Names for white cats: Alpine, Blizzard, Frost, Ghost, Snow;
Names for gray cats: Ash, Cloud, Dusk, Flint, Graphite;
Names for brown cats: Bark, Brownie, Cedar, Cocoa, Peanut;
Names for orange cats: Carrot, Cheddar, Ginger, Goldfish, Pumpkin;
Names for tabby cats: Badger, Marbles, Stripey, Tiger, Zig-Zag.
Is your cat a mix of some of these colors? No problem – just choose the name you like best, or try to combine them. For example, a black-and-white cat could be named Jet Frost!

Funny Boy Cat Names – Because Cats Can Be Silly Too
We couldn't forget the boy kittens who are always making us laugh. If your kitty is always getting into trouble or just has a lot of personality, one of these names may be perfect for him.
Booger – a funny name for a playful cat;
Garfield – inspired by the famous comic strip character;
Bonkers – for the craziest cat around;
Cat Man Do – perfect for a cat who's always up to something;
Cattitude – for the cat who owns the house;
Catzilla – for a giant and powerful feline;
Fishbait – for cats who love to play with their food;
Lucifur – for a devilish pet;
Nosey – for the most curious cat;
Skunk – for cats who like to keep their distance;
Wasabi – for cats who like to spice things up.
These boy cat names are sure to make you smile every time your kitten does something silly. And who knows – with a name like "Catzilla," he may even start to live up to it!
Choosing the Best Name for Your New Kitten
Has any of this inspired you? If you're still stuck, don't worry – there are plenty of other places to look for boy cat names. Try thinking about your kitten's personality, or things that make him special. Is he always climbing to the highest point in the house? Does he have a very long tail?
Or, you could go with your favorite TV show, book, or movie. After all, there's plenty of inspiration in pop culture! Just make sure you choose something that you won't mind calling out.
Once you find something unique about him, you're sure to find the perfect name. And if all else fails, you can always just go with a classic like "Tom" or "Simon." After all, there's nothing wrong with giving your boy kitten a traditional name.
Have You Found a Name That Fits Your Feline Friend?
Did any of these boy cat names strike your fancy? We hope you've found the perfect one for your new kitten! Whether you went with a popular name or something more unique, we're sure he's going to love it.
And if you didn't find what you were looking for here, don't worry – we have other cat name articles you can check out. Just keep looking until you find the perfect fit.
Frequently Asked Questions
What Are Some Unique Male Cat Names?
Some rare and unique male cat names include: Albus, Bruno, Cosmo, Harvey, Jasper, Kato, Lionel, Neo, Odin, and Quinn. For something a bit more out of the ordinary, try Bear Claw, Duke, Galaxy, Jumanji, Magnifico, Nacho Libre or X-Ray.
What Are Badass Names for Cats?
Badass cat names include: Ace, Bandit, Billy the Kid, Django, Fury, Ghost, Harley Quinn, Maverick, Rambo and Slayer.
What Is a Perfect Name for a Kitten?
The perfect name for a kitten really depends on your personal preferences. Some great options include: Caramel, Daisy, Ginger, Honey, Luna, Misty, Nala, Oreo, Pepper, and Whisper.
What Is the Best Cat Name Ever?
The best cat name ever is probably subjective, but some popular and classic options include: Simba, Tiger, Felix, Boots, Socks, Fluffy, Snickers.
What Is the Weirdest Cat Name?
The weirdest cat name is likely subjective, but some unusual and quirky options include: Apple Pie, Barnaby, Fuzzbutt, Moon Unit, Professor Whiskers and Starbuck.
---
Similar Posts: