| | | |
| --- | --- | --- |
| Trait ⬇️ | Gender ➡️ | Male 🤠 | Female 👢 |
| Strong 💪 | Wyatt | Crash |
| Feisty 🔥 | Butch | Deuce |
| Cute 🥺 | Spurs | Dolly |
| Amusing 😂 | Buckaroo | Taradiddles |
What does 'western' mean to you? Is it the wide open plains and ranches of the Midwest? The deserts of Nevada or Arizona? Maybe it's the rugged mountains of Colorado. No matter what western image you have in your mind, there are sure to be western dog names that fit your pup perfectly.
In this article you will read about
Western Dog Names Inspired by Wild West Characters and Places
Are you thinking of naming your dog after a famous western figure? From outlaws to lawmen, westerners have been a part of American folklore for centuries. Here are a few of our favorites.
Wyatt – after Wyatt Earp, a famous lawman from the western frontier. He was known for his sense of justice and his quick draw.
Jane – after Calamity Jane, a folk hero of the American West. Two of her famous qualities were her fearless spirit and marksmanship.
Butch – after Butch Cassidy, a notorious outlaw from the late 1800s. He was remembered for his daring bank and train robberies.
Jesse – after Jesse James, another western outlaw known for his string of successful robberies.
Belle – after Belle Starr, a famous female outlaw of the American West. She was often called the Bandit Queen.
Kit – after Kit Carson, a frontiersman known for his skills as a trapper and guide.
Buffalo – after Buffalo Bill, a western showman valued for his Wild West shows.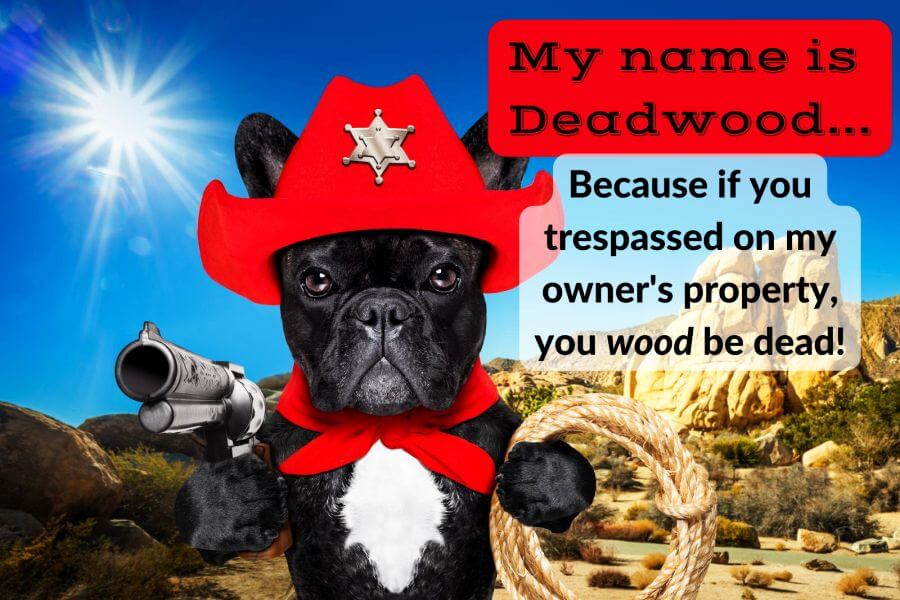 These are just a few western names for dogs to get you started. The following are inspired by famous places in the Wild West:
Abilene – known as the 'queen of Kansas cowtowns;'
Cheyenne – the capital of Wyoming, which was once a part of the western frontier;
Cody – the city in Wyoming founded by Buffalo Bill himself;
Deadwood – a town in South Dakota that was once a hotspot for prospectors and outlaws;
Dodge – a city in Kansas that was once a stop on the western frontier;
Durango – a place of clashes between miners and Native Americans, and a backdrop for many Western movies;
Tombstone – the infamous Arizona city where a gunfight happened between Wyatt Earp and a gang of cowboys.
Do these names have the right ring to them? If not, we've got plenty more ideas. Keep reading and find something you like!
Cowboy Dog Names for Your Four-Legged Friend
Looking for puppy name ideas inspired by the cowboys? These western dog names are perfect for any pup with a bit of spunk. They come from cowboy terminology, equipment, and other things associated with them.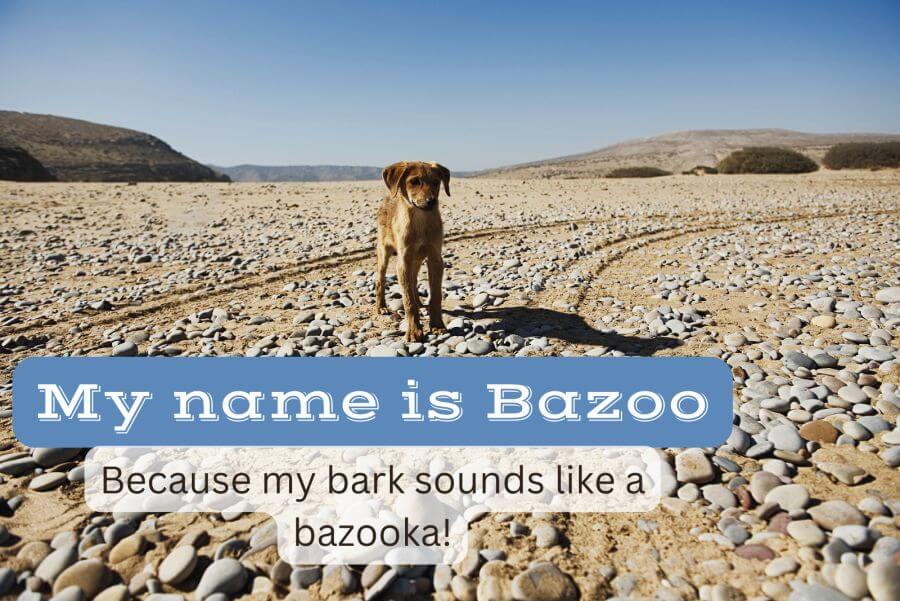 Bad Hoss – a term for a wild or misbehaved horse;
Bazoo – a word for mouth;
Buckaroo – another word for cowboy;
Chiseler – another word for swindler or conman;
Grit – a quality that all cowboys need;
Spurs – a cowboy's tool for getting their horse to move faster;
Lariat – a cowboy's rope;
Stetson – a type of western hat;
Tumbleweed – a plant that's often associated with the western United States;
Trigger – after Roy Rogers' famous horse.
Did You Know… 🔍

For cowboys, the camp cook ("Cookie") was the most important person in camp! He would make sure they got three hot meals every day, and he also noted the position of the North Star and turned the chuckwagon's tongue towards it. Maybe you could name your pup Cookie as a subtle tribute to the West?
Cowgirl Dog Names for Your Spunky Dog Lady
If you're looking for western dog names that are more fitting for a female dog, look no further. These ideas are also inspired by words commonly used by cowboys.
Bake – a term for an overheated horse that's been ridden hard;
Chaps – a type of western clothing worn to protect the legs;
Cinch – a word for a saddle's girth strap;
Coil – another word for rope;
Crash – a word for a coarse linen fabric;
Deuce – an expression for the devil;
Quirley – a word for a hand-rolled cigarette;
Squinny – a verb meaning 'to make someone wink, laugh or smile;'
Taradiddles – a word meaning 'myths,' 'lies,' or 'tall tales;'
Waddie – a name for a hired farmhand that tends cattle.
Did You Know… 🔍

Lucille Mulhall is known as the first cowgirl. She was only 14 years old in 1900, yet she was invited to compete at a Rough Riders reunion rodeo and won first place! She then began touring as the featured act in famous Wild West shows.
Country Dog Names Inspired by Music
If you're a fan of country music, you may want to name your dog after one of your favorite singers or songs. Your dog's barking likely won't follow the rhythm, but who cares? Here are a few of our favorite country-themed names.
Cash – after the legendary Johnny Cash;
Dolly – after Dolly Parton, one of the most iconic female singers in country music;
Jolene – after one of Dolly Parton's most popular songs;
Kitty – after Kitty Wells, known as the 'Queen of Country Music;'
Hank – after Hank Williams, one of the most important singers in country music history;
Travis – after Travis Tritt, a popular country singer from the 90s;
Willie – after Willie Nelson, another legend of country music.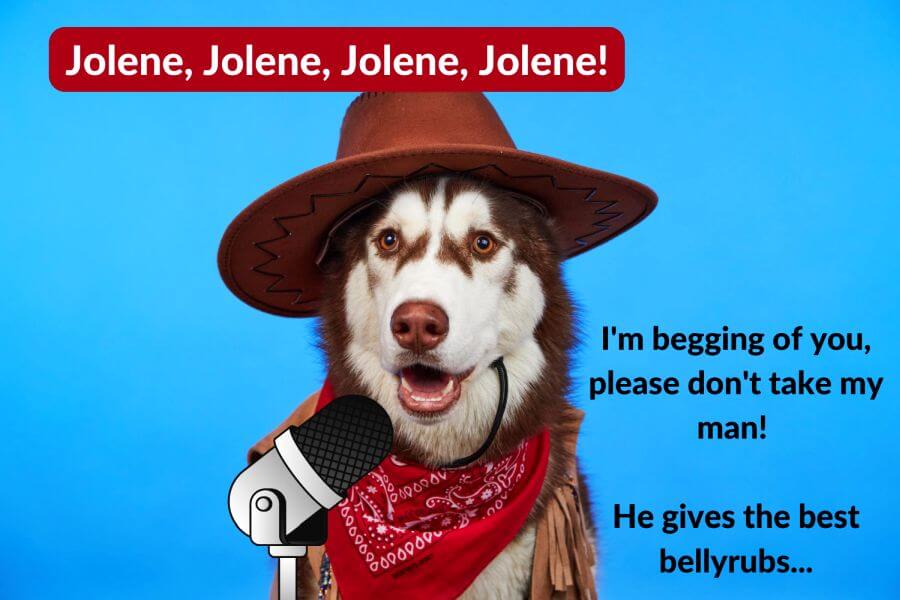 Have You Found a Fitting Name for Your Dog?
We hope you enjoyed reading through this list of western dog names. If you haven't found the perfect name for your pup yet, don't worry. Keep brainstorming, and we're sure you'll come up with something great!
Frequently Asked Questions
What Would a Cowboy Name His Dog?
One possible answer to this question would be that a cowboy might name his dog after a tool or piece of equipment that he uses on a daily basis. For instance, he might name his dog "Spur" or "Chaps." Alternatively, he might choose a name that reflects the dog's personality or appearance. For example, he might call his dog "Bolt" or "Wrangler."
What Is a Good Country Dog Name?
Country names like Cowboy, Hank, Bo, and Ryder evoke the image of a loyal, hardworking dog that is a part of the country landscape. They're perfect for dogs that herd livestock or work on a farm. Other good country dog names include Tucker, Jessie, and Lucky. These names suggest a dog that is happy and fortunate, just like life on the farm. Whatever name you choose for your country pup, make sure it suits his personality and embodies the spirit of the rural lifestyle.
What Is a Good Southern Name for a Dog?
There are many good Southern names for dogs, but some of our favorites include Rebel, Smokey, and Savannah. These names are perfect for dogs who are loyal and brave, just like the Southern spirit. What's your favorite Southern name for a dog?
---
Similar Posts: