The 5 Most Popular Dog Names That Start With T
Trixie
Toby
Tucker
Thunder
Tammy
In this article you will read about
Unique Name Ideas Starting With T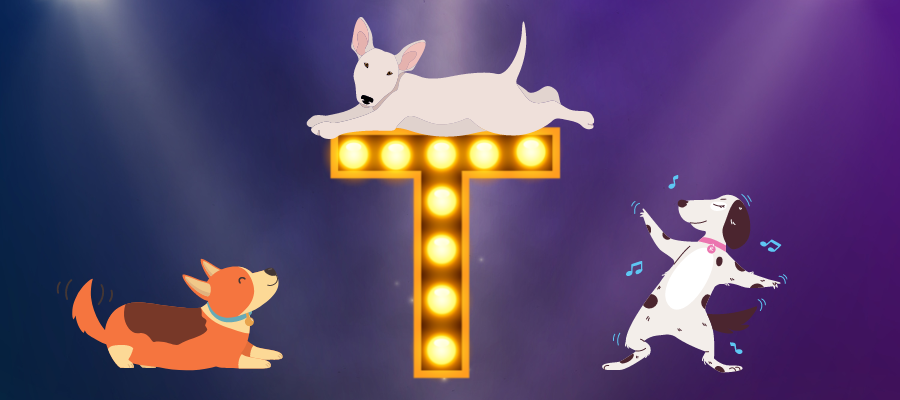 Out of all puppy names we could think of, we chose our favorite dog names that start with T. Enjoy!
Theodore – Or Theo for short!
Tati – Short and sweet.
Teagan – Irish in origin and means "attractive."
Toffee – this one is self-explanatory.
Trenton – A strong, masculine name.
Talise – Meaning "beautiful valley" in Hawaiian.
Taj – An Indian name meaning "crown."
Thaddeus – Of Greek origin and means "courageous heart."
Dog Names That Start With T: Female Dog Names

There are many different options when it comes to female dog names that start with the letter T. Here are some of the best dog names that start with T:
Tiffany: A beautiful name for a small and delicate dog.
Trinity: Perfect for a three-colored pup, or one with a divine personality.
Tessa: A cute and spunky name for a small dog with lots of personality.
Tangerine: Perfect for an orange pup!
Twinkle: Perfect for your sweet little canine star.
Terra: A great name for a girl dog that guards a territory.
Tippy: A sweet name for a small and playful pup.
Tori: Perfect for a bright, spunky, and energetic dog.
Tulip: After a beautiful flower.
Trixie: A spunky and cute name for your feisty fur baby.
Tigerlily: For the adventure seeking pup with lots of spunk!
Taylor: A refined and sweet name for a classy lady dog.
Tilly: A great name for a tiny and cute little puppy.
Tinkerbell: If you have a small, female dog who loves to play and has a lot of personality, then this name is perfect for her. Tinkerbell is a popular character from the movie "Peter Pan" who is known for her playfulness and spunk.
Interested in more names from popular animations? Check out our article on Disney dog names!
Naming Tip

You can always draw inspiration from adjectives! Let's say you've got a pup that will grow into a big dog. Try combing an adjective that starts with T with some cute noun. For example, Tallbean, or Twiggy Piggy.
Dog Names That Start With T: Male Dog Names

If you're looking for perfect boy dog names for your puppy, below there are male dog names that start with T:
Toby: A classic name for a loyal dog.
Trigger: Perfect for a pup who loves to play fetch.
Turbo: For a pup with lots of energy.
Tank: A big, strong name for a big, strong dog.
Tiger: A fierce name for a brave canine companion.
Thumper: If you have a small, energetic pup who loves to bounce around and play all the time, then this name is perfect for him. Thumper is the name of a character from the movie "Bambi" who is an adorable and playful rabbit.
Thor: An action-packed name for an adventurous pup.
Triton: A regal name for a noble pooch.
Titan: A strong, powerful name for a tough dog.
Talon: For a canine with sharp instincts and quick reflexes.
Tango: A spirited name for an energetic dog.
Tucker: A good name for a food-loving pup.
Trip: A perfect name for an energetic and playful dog.
Truman: This name is perfect for a loyal and obedient dog.
Tyler: A strong and masculine name for a courageous dog.
Trace: A perfect name for a curious little puppy.
Tarzan: If you have an adventurous dog who loves to explore and play outdoors, then this might be the perfect name for him.
Dog Names That Start With T: Gender Neutral Dog Names
There are a number of gender-neutral names for dogs that start with the letter T. Some popular choices include Tucker, Tyler, and Teddy. These names are all fairly short and straightforward, making them easy for dogs to learn. Additionally, they all have positive associations. All of these factors make gender-neutral names starting with the letter T ideal choices for dogs.
Of course, ultimately, the best name for your dog is the one that you feel best suits them. But if you're looking for a starting point, any of these T-names would be a great choice. Some other unisex names for dogs include:
Tesla;
Tracy;
Tori;
Tully;
Timmy.
Dog Names That Start With T FAQs

What Are Girl Dog Names That Start With T?
Tinkerbell is an adorable choice that's on every pet parent's list these days – it has just the right amount of sweetness and creativity. For those looking for something a bit more classic, Tammy is always popular and never goes out of style. Talia also has both unique elements as well as traditional ones, making it an excellent choice for pups who have personality in spades. Tulip is another timeless pick that stands out from the pack without being too overwhelming or over-the-top.
What Is a Badass Name for a Dog?
Let's start off with "Taser." Not only does it sound cool, but when you say it out loud, there's an electric feel that comes along with the word. Next up is "Thunder." This word has always been associated with big and powerful things – just think about how thunder rolling in after a storm can make us stop everything and listen.
What Are Some Fancy Dog Names?
Temeluchus: Temeluchus is an ancient Greek name that means "destroyer of villages." While it may sound ominous at first glance, this name actually conveys the strength and power of your pup.
Thorin: The ideal choice if you want to give your pup a noble title. Thorin was one of the most powerful characters in J.R.R Tolkien's novel The Hobbit.
Toulouse: French in origin yet sophisticated enough for any pupperoo, Toulouse is sure to add some class and pizzazz to your pet's image. 
Did you enjoy our dog names that start with t? Share your opinion in the comments! And if you're considering adoption, here is the link to ASPCA adoption centers!
---
Similar Posts: