When it comes to naming a new furry friend, you'll want to choose a name that is easy for your dog to understand and that won't be confused with common commands. And if you're looking for something truly unique, you might just want to consider alcohol dog names for your pup. While it might seem like an unusual choice at first, it may fit your pooch perfectly. And if you haven't got the dog yet, you may consider adopting one from ASPCA!
Punny Alcohol Dog Names
Johnnie Pawlker✨
Pawperol✨
Captail Morgan✨
Ruffdonnay✨
In this article you will read about
The Best Alcohol Dog Names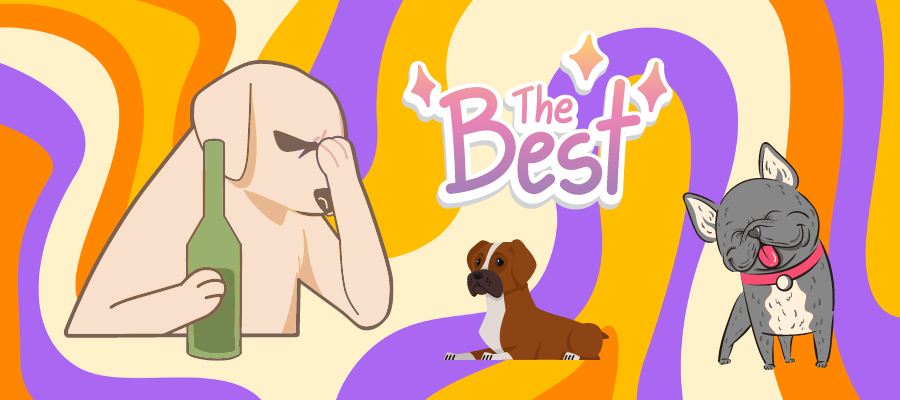 Since there are so many types of alcohol, you're sure to find one that you'll love! Here are some of the top alcohol-inspired names for dogs:
Whiskey: Whiskey is a classic drink that has been enjoyed by people for hundreds of years, making it the perfect name for a dog who is just as timeless and beloved.
Vodka: This might seem controversial, but 'vodka' is a fun word. So, why not make it a dog name?
Gin: Or Ginny, is a fun twist on a short yet effective dog name. It will fit any small pup!
Amaretto: This name is both cute and classy, making it a great choice for any dog who has an elegant appearance. Amaretto is a popular Italian wine and cool-sounding alcohol-related name for your furry companion.
Champagne: Does your dog exude an aura of royalty? It's a great fit for pups with long luxurious fur and an air of classiness!
Kahlua: If you're searching for an ideal name for your loyal and loving pup, this is it! Whether they have a playful attitude or prefer snuggles over playtime, this moniker suits them perfectly. Plus, its subtle yet sophisticated vibes compliment dogs with dark-toned coats, too.
Wine: This name is perfect for dogs who are calm and collected. It also works well for dogs who have a slender or graceful build.
Brandy: A liquor distilled from wine, perfect for sophisticated dogs.
Strong Alcohol Names for Dogs

Even the strongest dogs absolutely cannot have any alcohol. But what they can have is a strong alcohol dog name!
Scotch: This name is ideal for canines who are dedicated companions and devoted guardians. It also works well for dogs who have a strong, muscular build.
Cognac: This name is luxurious and sophisticated, making it a great choice for dogs who are well-bred and have an aristocratic air about them. It also works well for dogs who are a deep, rich brown color.
Bourbon: This is THE strong alcohol, and it makes an amazing strong alcohol dog name, too.
Tequila: If your pup has a fiery, self-determined spirit, this is the perfect name for them!
Rum: This name is perfect for dogs who love to run around and play outside. It also works well for dogs who are known for having a fun-loving, mischievous personality.
Did You Know?

Did you know Bourbon is the U.S. national alcohol? Originating from Kentucky, this drink was proclaimed the National Spirit in 1964.
Alcoholic Beverages Names for Dogs
If you're looking for a great and unique name for your dog, it is a good idea to consider alcohol dog names that are inspired by specific alcohol brands. Who knows, maybe you're a fan of some of them, too! Here are some of our favorites:
Guinness: This Irish beer is perfect for a strong and sturdy dog.
Baileys: A sweet and creamy liqueur that would be ideal for a small, fluffy dog.
Jack Daniels: A classic whiskey that would suit any dog, regardless of breed or size.
Budweiser: If your pooch loves to be the life of the party, then this American-made beer is just right for them!
Smirnoff: One of the most popular vodkas on the market, this name would be great for a pet that enjoys being the center of attention.
Johnnie Walker: If you're looking for a Scotch whiskey that exudes strength, class and elegance, then this is the perfect choice for even the most discerning dog.
Jim Beam: A bourbon whiskey that is perfect for the down-to-earth dog. It is unpretentious and rugged, much like your furry friend.
You know what? No alcohol tastes good without any snacks to accompany it. Check out or list of food dog names, here!
Cocktail Names Ideas for Males

If you're considering naming your dog after your favorite cocktail? Here are some of the best ideas:
Martini: A classic cocktail that can be shaken or stirred, this name is perfect for an independent pooch who doesn't need any help from anyone else to succeed.
Manhattan: With its sophisticated connotations and regal charm, this timeless cocktail is the perfect name to bestow upon a refined companion.
Mojito: Mojito is a great name for any dog who loves to play and enjoy life to the fullest.
Rum Runner: If you're looking for the perfect handle to represent your pup's love of play and frolic, look no further than rum runner! It's sure to be a hit with even the most active animal companion.
Daiquiri: A refreshing and fun choice for any pup who loves to run, play, and just enjoy life. Daiquiri is the perfect name for a dog who's always up for some good times.
Cocktail Names Ideas for Females
Bloody Mary: This zesty choice is perfect for any dog who loves to have fun and live life to the fullest!
Margarita: A classic tequila-based drink, this name is ideal for any pup who is the life of the party (aka the center of attention).
Negroni: This sophisticated name will fit a proud little lady dog.
Piña Colada: A classic refreshing cocktail for a lovely little pup!
Alcohol-Inspired Dog Names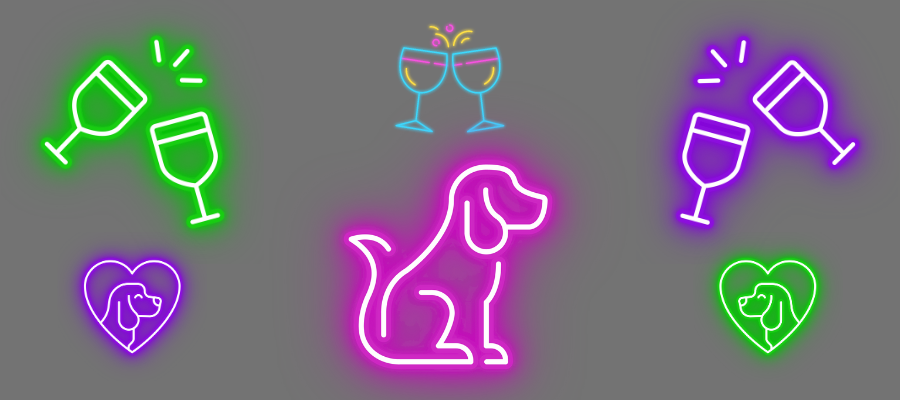 We've gone through alcohol dog names, how about we present some that we associate with alcohol, too?
Shaker: Because some pups love to shake their bums!
Bubbly: Perfect for a dog who loves to play and have fun, and the owner who loves bubbly wine!
Brewski: For the pooch who loves to lounge around with their human.
Boozehound: A strong and playful moniker.
Liquor: A good name for a small but feisty pup.
Alcohol Dog Names FAQs

What Dog Name Goes With Whiskey?
There are a lot of different dog names that would go well with whiskey, but some of our favorites are Ballantines, Barrel, and Scotch. We think these names are perfect for friendly dogs who love to relax and enjoy a good drink (of water, of course!) with their owner.
Is Tequila a Good Name for a Dog?
Why not? There are a lot of things that could be named Tequila. A person, a dog, or a drink. It's up to the person or the dog's parents to decide what they want to name their pet.
What Cocktail Is Named After a Dog?
The Greyhound Drink is a popular cocktail that is named after a dog. It consists of grapefruit juice, vodka, and cranberry juice.
Choosing alcohol dog names for your pup is a great way to show off their personality or appearance in a creative and fun way. Whether you're looking for something funny or sophisticated, there are plenty of great options out there to match any pup. These types of names are fun and quirky, while also reflecting the dog's energetic and playful personality.
---
Similar Posts: