| | | |
| --- | --- | --- |
| Inspiration ⬇️ | Gender ➡️ | Male ♂️ | Female ♀️ |
| Classic Cartoons | Pluto | Courage |
| Disney Movies | Dante | Nana |
| PAW Patrol | Chase | Skye |
Cartoon dog names: highlights
There's no shortage of dogs in cartoons, which means there are plenty of cartoon dog names to choose from. From Disney's classics to more contemporary shows like PAW Patrol, there are all sorts of brave and lovable canines to name your pup after. Some might not be the best role models for your pooch (we're looking at you, Goofy), but they're still worth honoring if you grew up with them!
In this article you will read about
Famous Cartoon Dog Name Ideas – The Classics
If you're looking for timeless ideas, there's no shortage of options to choose from. These characters have charmed audiences for generations, and they make great cartoon dog names with some history behind them. Consider one of these iconic pups:

These are just a few of the many cartoon dog names to choose from. Whoever hears you calling your dog Scooby or Clifford will smile at the nostalgic reference.
Editor's Note 🪶

Courage got his name despite being cowardly. What about your dog? Do they have a negative quality that you'd like them to overcome? For example, you could name a lazy dog Sporty, or combat your pup's yappiness with a name like Silence!
More Disney-Inspired Names for Dogs
Disney hasn't stopped churning out cartoon classics, even in recent years. Without dividing too much into categories, here are 10 more cartoon dog names to choose from. They come from both older and newer Disney movies, but aren't as iconic – and perhaps overused – as the ones we've mentioned earlier.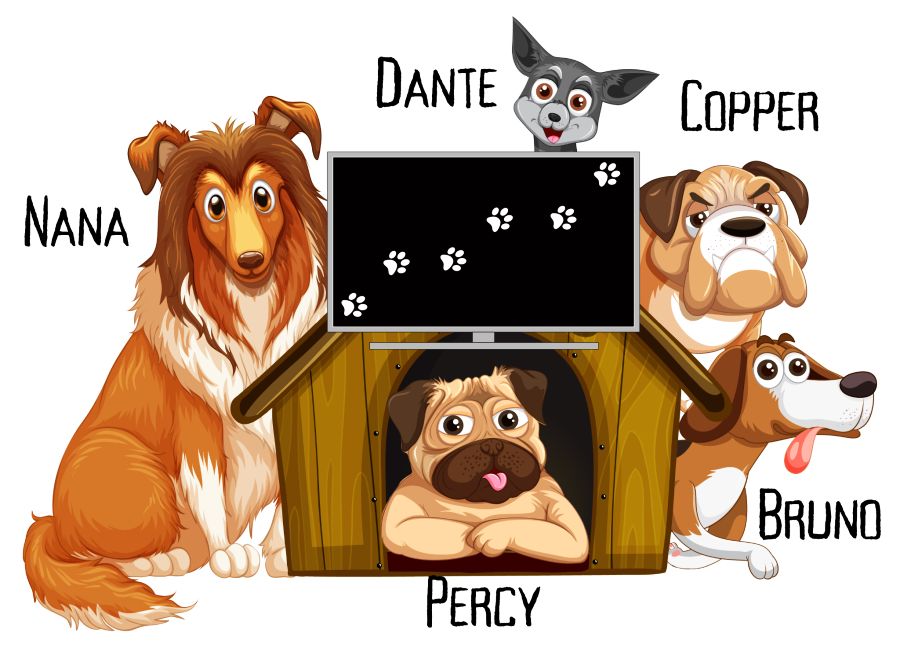 Don't these Disney-inspired names just make you want to cuddle up with your pup and watch a movie? Pick the one with their namesake and make it a great family night in!
PAW Patrol Cartoon Dog Names – For the Younger Set
If you're looking for cartoon dog names that are a little more current, consider one of the pups from the popular Nickelodeon show PAW Patrol. The show follows a group of heroic puppies who work together to protect their town, Adventure Bay.
Each pup has a unique skill and personality, making them the perfect cartoon dogs for kids to look up to. Here are some of the best PAW Patrol dog names: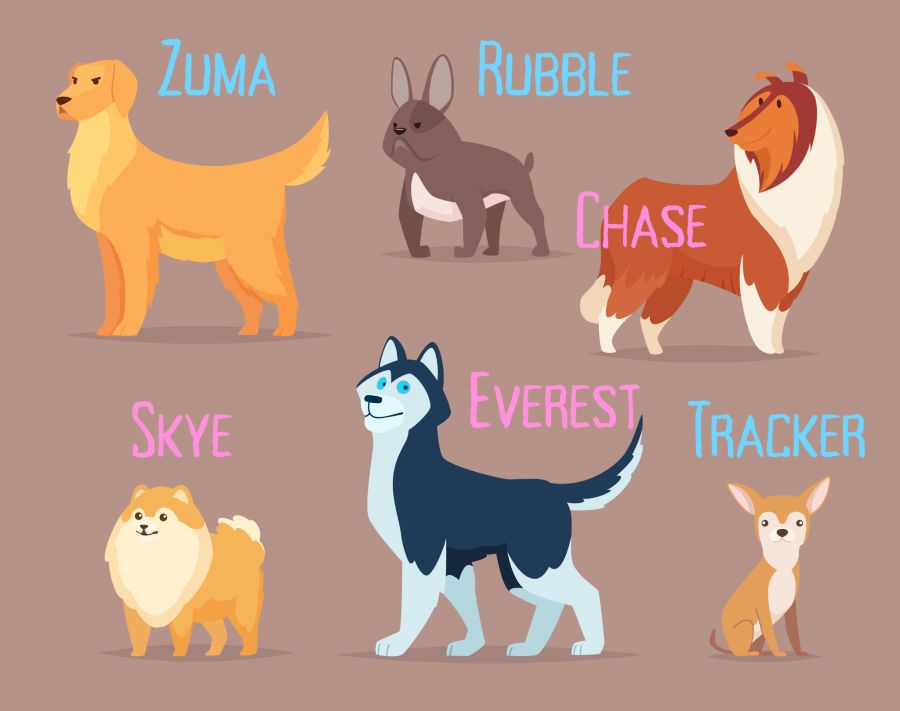 Have You Found the Perfect Cartoon Name for Your Pet?
These cartoon dog names should give you a good starting point when naming your new pet. It isn't an exhaustive list by any means – you could also go with one of the dogs in Family Guy, the anthropomorphic dog characters from BoJack Horseman, or any of your favorite cartoon characters. Whether you're looking for a classic name or something more current, there's bound to be a cartoon character that is the perfect fit for your furry friend.
Frequently Asked Questions
What Are Some Creative Dog Names?
The most creative dog names would be those you make up on your own. But if you need help, let's play a little game. Think of a place you've never been to, but would really like to see. (For me, it's Iceland.) Now, if you chose a country, take its capital and modify it so that it sounds like a dog name. (In my case, it's Reykjavik, which I can shorten to Javik.) If you chose a city, simply do the same with its name!
What Is the Dog's Name on Looney Tunes?
Looney Tunes had a dog character named Charlie Dog. He appeared in 9 cartoons between 1941 and 1958. He was a mutt who liked to pretend he had a pedigree, and did everything in his might to find himself a master!
What Is Mario's Dog's Name?
If you mean the dog that appears in the Super Mario franchise, then his name is Poochy. He mostly appears throughout the Yoshi franchise, though, and isn't Mario's dog.
What Is Elmer Fudd's Dog's Name?
It depends on what cartoon you have in mind. In Mutt in a Rut, Elmer had a dog called Wover Boy, who helped him with hunting. In another film, To Duck or Not to Duck, he had a hunting dog named Laramore.
Who Is Bugs Bunny's Dog?
Bugs Bunny didn't have a dog, but there is a movie starring both him and a dog named Willoughby. It's called The Heckling Hare.
---
Similar Posts: