| | | |
| --- | --- | --- |
| Your pup has… ⬇️/Gender ➡️ | Female ♀️ | Male ♂️ |
| A heart of gold 💛 | Nana | Benji |
| A crazy personality 🤪 | Lassie | Toto |
| Unique looks 💎 | Perdita | Chiffon |
| A special talent 🎯 | Asta | Bolt |
When it comes to dogs in popular culture, Lassie and Rin Tin Tin probably come to mind as the first canine movie stars. But there are plenty of other famous dogs who have made their mark in the cinema, TV and cartoons. If any of these dog names from movies sound unfamiliar to you, time to watch the movies!
In this article you will read about
Dog Names from Movies – Classic Films
If you're after dog names from movies, look no further than the classics. From popular black-and-white flicks to timeless animated features, these dog characters have been bringing joy to audiences for decades.
Asta (The Thin Man). This Wire Fox Terrier was the faithful companion of Nick and Nora Charles, a husband-and-wife crime-solving duo.
Benji (Benji). This lovable mutt with a heart of gold was the star of several films in the Benji franchise.
Butkus (Rocky). This Pit Bull was Rocky Balboa's furry friend and training partner.
Lassie (Lassie Come Home). This Collie needs no introduction – she's been one of the most famous dogs in the world since her 1943 film debut.
Old Yeller (Old Yeller). This dog name from a movie is perfect for a loyal and brave pup. It belonged to the title character of the 1957 film, who was a Black Mouth Cur.
Rin Tin Tin. One of the first dog actors, this German Shepherd appeared in 25 films and 2 TV shows.
Snoopy (A Charlie Brown Christmas). One of the most popular dog names from movies, this example of the Beagle breed is the loyal companion of Charlie Brown in the Peanuts comics and their adaptations.
Toto (The Wizard of Oz). This little pooch has been a favorite for generations, appearing in the Judy Garland classic.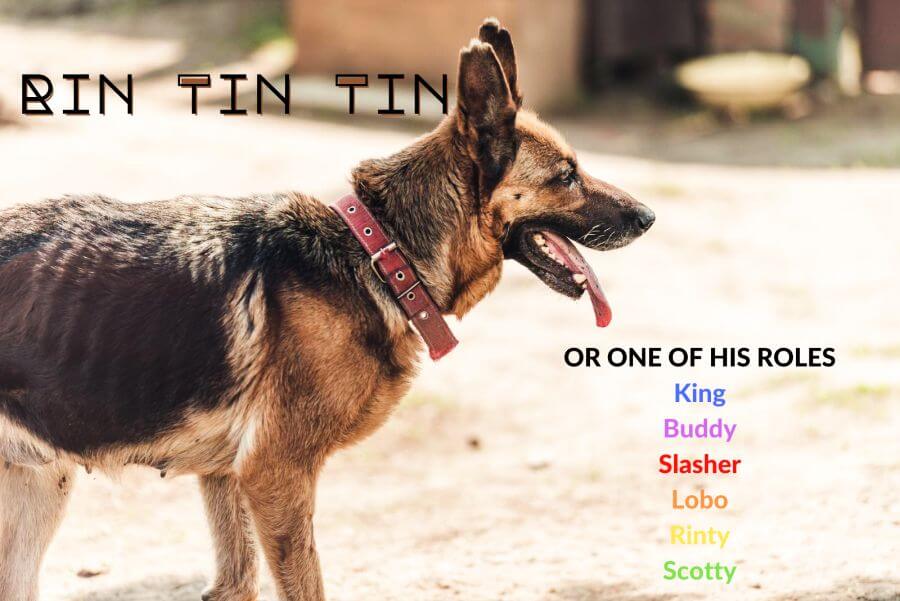 Dog Names from Disney Movies
Disney has created some of the most beloved animated characters, from Snow White and Pinocchio to Bambi and Dumbo. Many of these characters are dogs, and some have become household names. Here are some Disney names for pups:
Bolt (Bolt). This dog name from the 2008 movie is perfect for a pup with superpowers – or one who thinks he has them!
Chiffon (The Shaggy Dog). This Old English Sheepdog appeared in the 1959 film and its 2006 remake.
Dug (Up). This Golden Retriever becomes the loyal companion of Carl Fredricksen, the elderly protagonist of Up.
Lady (Lady and the Tramp). It's one of the sweetest dog names from movies, belonging to the American Cocker Spaniel protagonist of the animated film.
Nana (Peter Pan). This St. Bernard dog is the nursemaid to the Darling children in Disney's 1953 animated film.
Percy (Pocahontas). This name from the 1995 Disney movie belongs to a pug that befriends Pocahontas.
Perdita (101 Dalmatians). This dog name is perfect for a pup with spots. It belonged to one of the Dalmatians in the film, who was also the mother of the 15 puppies.
Pongo (101 Dalmatians). This name belonged to the father of the 15 Dalmatian puppies, and is a great alternative to Perdita for a male pup.
Pluto (Mickey Mouse). One of the most popular dog names from movies, this mutt is Mickey Mouse's faithful friend and sidekick.
Slinky (Toy Story). This name from the Toy Story franchise belonged to a plastic dachshund toy who came to life.
Tramp (Lady and the Tramp). This street dog is the male lead of the 1955 Disney movie.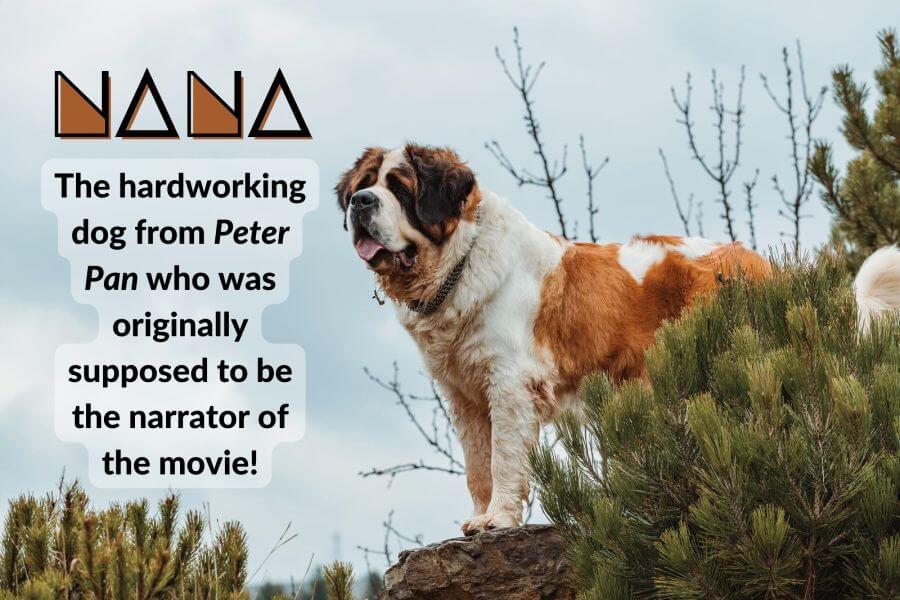 Other Dog Names From Movies
There are plenty of dog names from movies to choose from if you're looking for one inspired by a more recent release.
Bailey (A Dog's Purpose). This dog name from the 2017 movie is perfect for a pup who is always by your side.
Bella (A Dog's Way Home). This name is perfect for a loyal and loving pup, and it belonged to a Pitbull who was the main character.
Buddy (Air Bud). This dog name became popular after the release of the 1997 film about a dog which plays basketball.
Duke (The Secret Life of Pets). This big dog name belonged to a massive Bernese Mountain Dog, who was another of the main characters.
Marley (Marley & Me). This name was popularized by the 2008 film about a Labrador Retriever, who was the dog of the main characters.
Max (The Grinch). This dog name is perfect for a pup with a heart bigger than they seem. It belonged to the dog of the Grinch in the 2000 film and the source material.

Have You Found the Perfect Movie Dog Name for Your Pup?
Now that you've seen some dog names from movies, it's time to choose the perfect one for your new dog. Whether you're looking for a name inspired by a classic film or a recent release, there's sure to be something on this list that's perfect for your furry friend! If not, you can also check out the many characters in PAW Patrol. Or maybe name your dog Pip after this fellow:
Frequently Asked Questions
What Are Some Famous Dog Names?
Some famous dog names include Lassie, Benji, Rin Tin Tin, and Snoopy. Other popular names include Bolt, Lady, Clifford, and Marley. Additionally, many famous film and TV characters have inspired popular dog names, such as Toto from The Wizard of Oz and Butkus from Rocky. You can also browse through lists of dog names from movies or TV shows to find the perfect one for your pup.
Who Is the Most Famous Movie Dog?
Lassie is probably the most famous movie dog, having appeared in several films and TV shows over the course of her iconic career. She was played by a male dog named Pal and his descendants.
What Is John Wick's Dog's Name?
The dog given to John Wick by his late wife, Helen, was called Daisy. She is a Beagle who may have been named after Helen's bracelet with daisies. The dog being killed by Iosef Tarasov triggers Wick's desire for revenge. Daisy is played by a male puppy.
---
Similar Posts: